HELSINKI AIRPORT (HEL) INFORMATION
Origin
Airline
Flight no.
Scheduled
Est./Actual
Status
No flight arrivals were found at Helsinki Airport.
Destination
Airline
Flight no.
Scheduled
Est./Actual
Status
No flight departures were found at Helsinki Airport.
Car Hire at Helsinki Airport
UNBEATABLE VALUE CAR RENTAL
Free Amendments | Free Cancellations | No Card Fees



Helsinki Airport - All Information on Helsinki Airport (HEL) Helsinki Airport
P.O. Box 29, FIN-01531 Vantaa, Finland
phone +358 200 14636
phone+358 600 41006 (Lost + Found)
call_end+358 98277 3296 (fax)
Facts and History about Helsinki Airport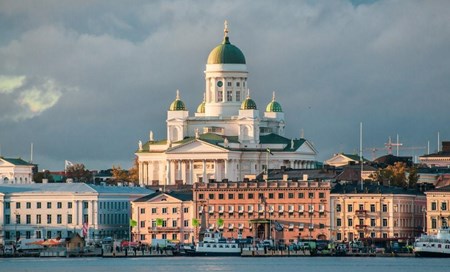 Helsinki Airport is the Finland's most important international airport and serves as gateway to the greater Helsinki area.
The airport is actually located in the commuter town of Vantaa, a suburb of Helsinki, situated approximately 17 km or 10.6 miles to the north of Helsinki's city center.
2018 saw a record breaking year with over 20 Million passengers flying in and out of Helsinki Vantaa Airport's two terminals, an increase of over 10% on the previous year. The airport offers commercial airlines three runways for starts and landings as well as being already in a position to accept the Airbus A340 super-jet planes and the A380.
There is a surprisingly large choice of destinations from Helsinki Airport – flights leave for Saint Petersburg and Moscow in Russia, Warsaw in Poland, Stockholm Arlanda and Gothenburg in Sweden, Amsterdam in the Netherlands, Munich, Frankfurt and Düsseldorf in Germany, Chicago in the USA, Oslo in Norway, Istanbul in Turkey, Copenhagen in Denmark, Lisbon in Portugal among many other domestic and international routes.
Helsinki Vantaa is a hub for Finnair and Blue1, which is the Finnish regional branch of carrier SAS. Flybe and Air Finland also use the airport as their base. International airlines include Air Canada, Aer Lingus, Aeroflot, Iberia, British Airways, Brussels Airlines, Air Berlin, Bulgaria Air, Cathay Pacific, China Southern Airlines, Delta Airlines, Qatar Airways, Croatia Airlines, Icelandair and LOT Polish Airlines among many others.
Both terminals offer passengers free access to WiFi services. The terminals are linked via a pedestrianized, internal section and have been divided into Schengen and non-Schengen arrival and departure areas.
Arrivals, Departures and Airlines at Helsinki Airport
A wide range of local and international car rental companies have desks in or near Helsinki Airport.
Airport hotels are dotted around the perimeter of the airport compound and some provide their own shuttle services to guests, but most rely on public city buses to ferry guests to and from the airport.
Helsinki Airport offers passengers public transportation via several bus lines that link the airport with Helsinki city center and with cities in the region. Bus line 615 leaves at regular intervals for Helsinki Central Train Station, taking between 30 to 55 minutes for the trip, depending on the time of day.
This line also stops along some of the major hotels in Greater Helsinki; as the hotels are spread out over a large area, passengers are advised to check with their chosen hotel beforehand, how long the journey will take from the hotel to the airport, as a bus trip can take between 15 minutes to two hours.
An Express Bus, operated by Finnair, takes merely 30 minutes to reach central Helsinki and is the preferred method of public transportation for many air travelers arriving at the airport.
Day visitors and passengers with a little spare time like to explore the Finnish Aviation Museum near the airport, which has some very interesting displays on show relating to the airport in particular and to Finland's aviation heritage in general.
Long distance coaches take passengers from the coach terminal at Helsinki-Vantaa Airport to all parts of the country as well as some other European destinations. the main operators are ExpressBus and Maktahuolto.
Until the new train link to the central train station is completed, passengers wishing to use public transportation must travel via bus line 615 to the town of Tikkurila, located just over 5 km or 3 miles distance from the airport. From Tikkurila Train Station passengers can take commuter and long-distance trains to Lahti, Tampere in Finland as well as trains to Saint Petersburg and Moscow in Russia.
Bus line 540 takes passengers from Helsinki Airport to Espoo Train Station, from where trains leave for Turku. At Helsinki Central Train Station the VR commuter railway system covers various destinations within the greater Helsinki area, while long-distance trains leave for other parts of Scandinavia. From the Central Train Station passengers have access to the Helsinki metro network, a fast and efficient system covering the center of Helsinki and some of the suburbs.
There are several outlets where air travelers can enjoy refreshments in cafes, bars and restaurants, serving local as well as international cuisine.
For passengers in a hurry there are take-away breakfast or lunch packs that can be consumed on board the plane. Cafes and bars open very early in the morning and remain open for business until late at night. Some cafes remain open, offering a 24-hour service.
Helsinki Airport shops offer extended opening hours from 5.30 am to 20.30 pm in the general terminal areas, while the shops within the departure lounges, namely outlets located beyond the security area and passport control, remain open from early in the morning until 23.00 pm at night.
There are outlets like Capi Electronis for gifts or famous fashion and accessories brands like Mulberry or Tie Rack. Everyday necessities can be purchased at Grocery Store Alepa, while presents for little ones at home can be found at Santa's Gift & Toy Store – Finland is after all Santa's official country of residence!
For more information about Helsinki Airport, please visit the official website at http://www.helsinki-vantaa.fi.
Parking at Helsinki Airport
See options for parking at Helsinki Airport.
Additional Services and Amenities at Helsinki Airport
At Helsinki Airport you will find the usual array of bars and restaurants, airport lounges and shops.
Things to do in Helsinki
There are a number of activities to suit all ages and interests in the region - see a selection of tourist activities in Helsinki, Finland.
Services at Helsinki Airport
Useful Information about Helsinki Airport